Custom product packaging can be defined to be really precise as "the cover of your products that are used to protect, impress and promote". Different products require a different kind of packaging as per the shape and sizes of their product. If you are a starter and you are just getting your business started, it is best recommended to use short-run orders like 100 custom boxes. So, you get the idea of quality. Unlike U-line and other wholesale boxes company, Printcosmo and 'The custom packaging boxes' accepts short-run orders as well. So, if you are a novice and trying to experiment with the designs and layouts you can seek help from them. But before that, you need to make clear of what custom packaging is and what types of product packaging designs you can follow up.
What is custom packaging?
Most companies have standard sizes of their custom printed boxes. They call it stock packaging. Which is different from custom packaging. You can ask for small, medium and large boxes when it comes to stock packaging boxes. Most companies use these stock packaging to package their products as they are inexpensive and manufactured in bulk. On the other hand, custom packaging facilitates you with a wide range of options in sizes and shapes. You don't have to stick with one standard size for all your products. Rather you can custom fit your product in the packaging design of your choice. All you have to do is tell the dimensions of the product and get the box made exactly of a size fitting the product in it. Custom packaging can be divided into a diverse range like:
Food packaging (Laminated to protect food quality)
Bottle packaging(Sturdy enough to hold heavy bottles)
Custom shipping boxes (Capable of handling pressure)
Custom retail packaging (Manufactured with cardboard, for the display)
You might be wondering where to get these boxes designed. These boxes are designed as per the requirement of the client and their product.
What is die line in packaging?
Die line in packaging is the open size layout design of the box. Which means when you customize your box with the desired size and logo of your own, a custom template of the box is made. These are the die lines in packaging boxes that explain you the areas from where cutting will be done and what part of the box will be created for the folding. Alibaba packaging boxes provide you boxes by style so that you can choose different styles of boxes and the layouts as per the desired sizes. Designing a product packaging is another level creativity that you need while getting your custom packaging boxes done.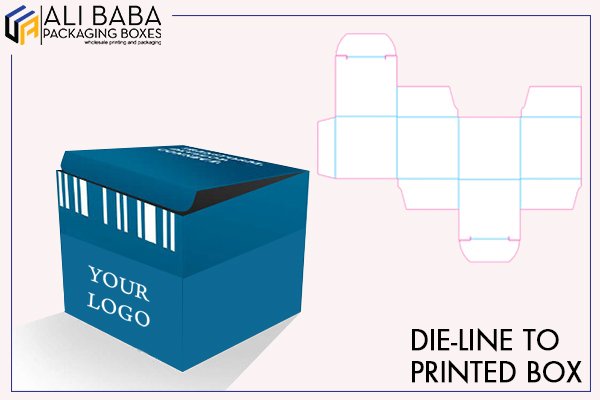 What is product packaging design?
When scrolling down on the ways to create a unique design for your custom boxes, you will come across multiple ideas. You can get ideas of your artwork from Vista printing as they provide you marvelous designs for printing of your boxes and for your logos as well. To select the design, it covers all aspects,
Shapes of the box you require.
Printing on the box you need.
Art work and designing.
Since customization can be done by all means it is not a bad option to consult as many companies as you can to get the best option. Also, look for the designs at Amazon printing press if you want to.
How much are custom boxes?
Most people ask around, "I need packaging for my product" Suggest some ideas. Well, all you really need is to make a comparison. Look for the company who provides you custom printed boxes, no minimum charges for machine setting and plate charges. Quality comes prior than quantity. Cost of these custom boxes depends on the size and printing of the boxes. Since, no plate cutting and die cut charges are being charged by clients at Alibaba. You can look for their terms and policy on your own along with other facilities like free shipment and free of cost art work.
Lastly, all you need is to keep quality over quantity in your mind while selecting custom packaging for small business as it is the key to prosper in the line of business.